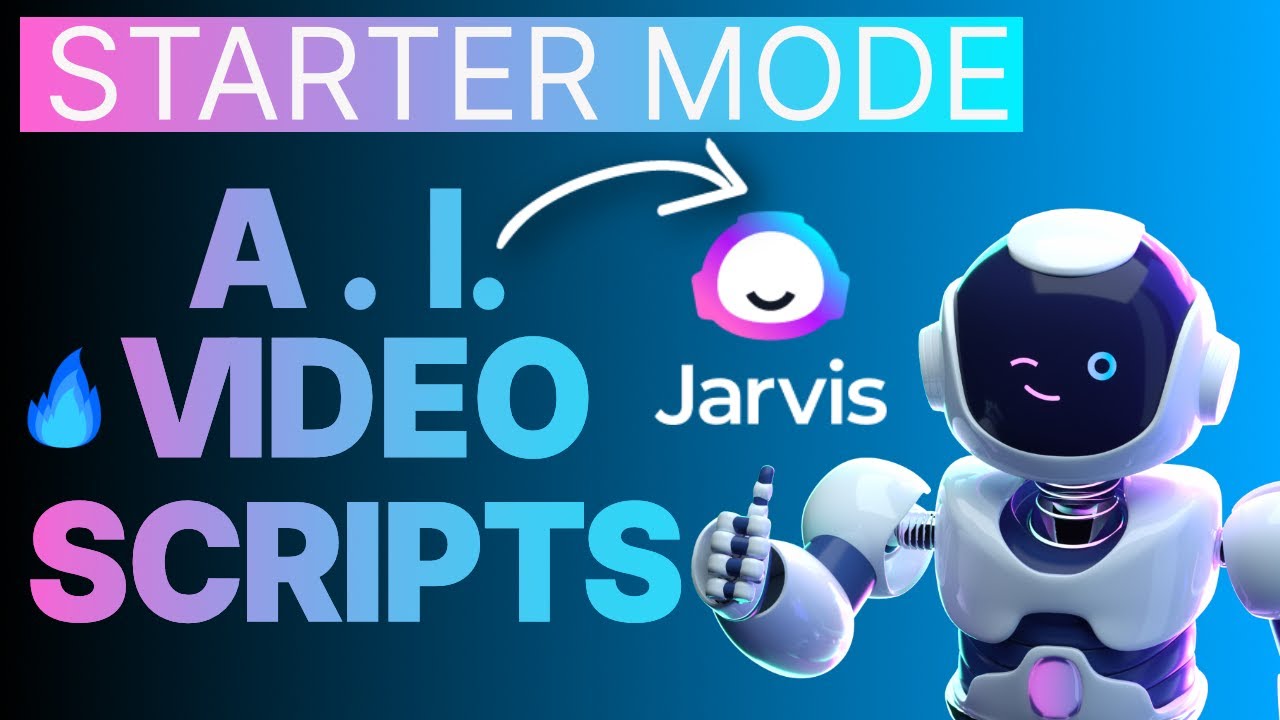 Using Jasper.ai (formerly Jarvis.ai) to Get Video Ideas For YouTube Workflow
We all know we should be posting videos for our businesses online. But it's hard to constantly keep coming up with video topics and ideas. What if I told you there was a software called Jasper.ai that could generate thousands of unique video ideas for you, help write the script, craft a hook, and title and description?
Sound too good to be true? I thought so until I tried it. Jasper.ai (also called Conversion.ai) uses machine learning to create human-like text and is used by over 300+ apps right now. Is it perfect? No. Does it help with video marketing? Oh, yes.
There are two ways to use jarvis.ai to get video ideas:  
Use the "Get Topic Ideas" to breakthrough writer's block with video ideas relevant to your niche
Use the "Video Title" function to focus that idea to a catchy title
Jasper.ai offers a few plans – Creator, Teams and Business ranging from $50 to Custom Pricing.
Earlier they offered a Starter Mode (now called Creator) in the plans. You get templates, tools and multiple generative AI models.
First, though, a quick disclaimer regarding Jarvis.ai.
This shouldn't be a surprise, but it's worth saying. At this point in history, there isn't a true AI yet. There are, however, Siri- and Alexa-like machine learning tools that can converse with you. If you've tried talking to either of these services, than your know it's not perfect.
Instead it's Generative AI, meaning that it's built to generate text conversations or material from what it has learned.
So, when you use this tool you'll need to help it along and probably correct a few things. But it is such a cool tool, and saves so much time.
Get YouTube Topic Ideas with Jasper.AI
If you're creating videos for YouTube, you probably know your niche. You have an idea what you're talking about or what your channel is about. Now use that with Jasper.ai.
Simply give Jasper.ai three things under the "Video Topic Ideas" function.
1 ) What topic should the video be about?
2) Keyword(s) to rank for
3) Tone of voice
Do your research first so that you know what direction you want to go in and then choose that topic. This informs the keyword to rank for you, which you can get from some place like VidIQ or TubeBuddy.
The Tone of Voice is the most tricky. You can put in all kinds of things ranging from "witty", "persuasive" and even to real-life people like "Elon Musk" or "Steve Jobs" to get copy that sounds like them. Titles and topics don't really seem to respond to too many tones of voice, but it's there nonetheless.
Build Your Video Script with Jasper.ai
The next thing is to start putting together your video. 
The most important part of the video itself is the first 5-10 seconds. Don't waste it. The Hook is right there at the beginning where you explain what your video is about. It's the first moment that people will click off your video if you aren't providing value. Most new creators struggle with this.
So, nail it and write it with Jasper.
Click the "Video Script Hook and Introduction" template to get suggestions how to open your video. Just give it the title of your video that you used in the last step and the tone of voice and it generates a Hook and intro for you. 
One thing to remember about the hook is that most people click off your video within 10 seconds. So, that means you have really less than that to tell them why they need to keep watching. Don't waste time setting up the video. They clicked your thumbnail. They're interested already. Get to the video as soon as possible!
I usually find one I like one Hook pretty quickly, and make changes to it to fit my needs. If one doesn't come up that you feel is engaging enough, you can continue to generate one as often as you need. The Starter Plan has 20,000 words a month, and these are usually quite short.
For newer creators, too, this is a great training exercise in that it can give you the feel for how long your intros should be. Hook them quick and get right into the video. Don't spend too much time setting up the video. 
Next, move onto the script itself! 
Even you're a more "off the cuff" presenter, it's nice to know where you're going. This keeps your videos on track and engaging.
The "Video Script Outline" template is best used for Listicles, but it can be used for other types of videos too.
Simply put in your YouTube video title you've brainstormed with Jarvis in Step 1, apply a Tone of Voice and hit generate!
You'll be surprised how quickly Jasper gives you a workable outline for your script. 
You might need to change your wording around or be more helpful in telling the tool what you're video is about. But within minutes you'll have an outline of usually 4-5 headings in an outline style. Pick and choose until you've come to an outline of main points you like.
Now, from here it gets a little more difficult with the Starter Plan, but not impossible.
Using the Blog Writing Templates to have Jasper.ai Create a Video Script
Next head back to the Templates page and choose "Blog Intro Paragraph".
Under "Blog post title" place your outline heading you got from Jasper.ai when we created your video script outline.
When you hit generate here, Jasper.ai will create a short paragraph that introduces that point. Keep doing this for each of the points in your video and you likely have the start of a good video.
As an alternative to this method, you can also start with the "Blog Outline Generator" instead of the "Video Script Outline". I find it more helpful often times and it tends to give you extra text about where to take the article besides just an outline of bullet points. This can helpful when fleshing out a video script!
By the time you've finished here, you're likely off to a great start with your script. You have a topic, a title, the hook, the introduction, bullet points to get you through the video a brief paragraph that you can use to flesh out the bullet point.
But let's take it deeper.
If something is complex or you think could be easily misunderstood, take one of your paragraphs and paste it into the "Explain It to a Child" template to further flesh out that point.
You could also use the "Product Description" template to get a short paragraph or the "Unique Value Propositions" if you simply wanted one sentence to show the value of your point.
As an Alternative, Use the AIDA Framework to Write a Video Script
The AIDA framework is a time tested formula used by marketers to write engaging copy. You can use it in your videos.
The AIDA (Attention, Interest, Desire, Action) is a great way to have Jasper.ai help you build my favorite kind of video – videos that solve problems.
Your followers and subscribers have challenges. Solve them.
Where this really excels is if you've created the first steps already. You have a title, you have a hook and intro, and now you're ready to solve a problem. Put all of this information into the Product Description section and let Jasper.ai get to work.
What he'll do is follow that framework:
Attention – This is perfect for right after your intro. This tells people what the issue is
Interest – This affirms the issue quickly
Desire – Keep people engaged to find the answer and see how it matches them personally
Action – How to solve the problem
Most people are searching YouTube to find solutions to problems. This might be for how to or tutorials, but can also include learning about topics, software, products and so on. Since google will also recommend videos as an answer to a googled question, this is also a great start to getting seen in Search Results
A Few Warnings About Using Jasper.ai
Remember that Jasper.ai is similar to machine learning, not true Artificial Intelligence. That means he actually isn't sentient. He's just a tool, and like any good tool, it's the skill of the user that makes the tool worthwhile.
Jasper is going to make generalizations. He's going to make mistakes. He might even make up facts.
So, in the end remember that you are the one making this video not Jasper. Think of him as part of your marketing team. You're brainstorming together to get ideas for videos and he's not an expert on your topic – you are. 
Be sure to double check his facts.
Also, remember the fundamentals of making great videos – you need good visuals, b-roll, and so on. Jasper doesn't know about any of those. So when building your script for your video you'll still need to do all of that on your own.
But, if used well, in just a few moments you'll have video ideas based on the keywords you wanted, the hook, an introduction and a basic outline for your video. This is a huge headstart and can really save time on both coming up with unique video ideas but also making up the basics of formulating that video.
If you want to learn more about writing scripts, check out my blog post here and email me, and I'll send you a template I use to build my own scripts.
All of this is exceptionally faster in Boss Mode, however it isn't impossible to use Starter Plan to make a great video script and come up with video ideas.
If you want to try to build a script in Boss Mode, here is a link for a free trial of Boss-mode. The benefit to Boss Mode is that you simply open the Long Form Editor, give Jarvis some basic information (like your video script) and he'll use the context to write copy for you block by block!
Later, I might do a post on Boss Mode since it is so much easier to use with the Long-From editor but I think that most people will find $100+/mo cost prohibitive. So start with the free trial, and then you can do the Starter Plan.
Are you using the Starter Plan? Let me know how it's going for you in the comments below!